Electronics
MaKeyMaKey
The MaKeyMaKey is a two-sided circuit board. On the more simple, top side, the MaKey MaKey has 6-inputs: the up/down/left/right arrow keys, as well as the space bar and mouse left click: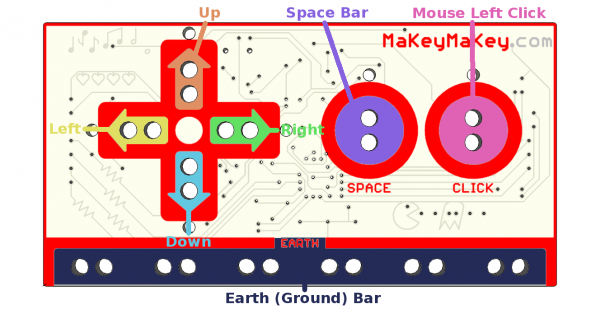 Each of those inputs as well as the very important "Earth bar" are available in the form of what I like to call "alligator-bait" connectors. You'll use the included alligator clip cables to clip right into the hole pairs. This will all be made much more clear in the next section. For now, let's keep summarizing your MaKey MaKey.
It's an invention kit that encourages people to find creative ways to interact with their computers, by using every day objects as a replacement for keyboards and mice. With the MaKey MaKey, you could replace your space key with a banana, use play-doh to move and click your mouse, or high-five your best friend to advance PowerPoint slides.
Example Projects
Sometimes following by example is the best way to learn. If you're not sure where to start with the MaKey MaKey, give these examples a look-over. I hope they inspire you! If you want your project added to this list, post it in the comments below, or send us an email!